The Wolves made a pretty interesting move this week by signing free agent point guard José Juan (or more affectionately known as J.J.) Barea to a 4 yrs/$19 million deal. He will make in the neighborhood of $4.2 in the first year of that contract and $5.3 million in the final year, by which time he will be 30 years old. Speaking of 30-year-old point guards, the Wolves currently have one on roster in Luke Ridnour. In fact, he is the reason some were scratching their head at the Barea signing.
The Wolves now have three point guards who deserve minutes in the NBA and that are all getting paid more than your average bench warmer. Some discussion has been that the Wolves made this move to help spread out the minutes at the point over the course of the condensed NBA season (seems reasonable). Some believe that the Wolves wanted to bring in a mentor for rookie Ricky Rubio and who better than bring in a player who speaks the same language (Spanish) as Rubio (it's an added bonus, but doubtful that was the main reason). Barea and Rubio also share the same player-rep agency headed by Dan Fegan (which couldn't have hurt in the negotiations). There has been some talk that Luke Ridnour never seemed like he was the right guy to become the mentor for Rubio when the time came. Ridnour's time in Minnesota could possibly be coming to an end, especially when considering his relatively movable contract (3 yrs/$12 million remaining). But, Rick Adelman has said this week that he would fulfill Kahn's documented desire to play two points at once. Adelman has done that in the past with some of his teams. Sacramento it 6'1″ guards Jason Williams and Bobby Jackson. In Houston it was 6-foot guard combo of Kyle Lowry and Aaron Brooks.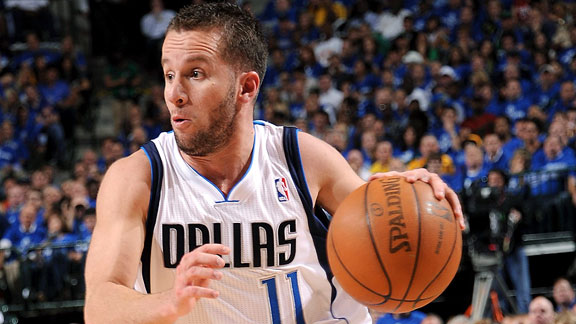 Besides his improbable play in last season's NBA Final, Barea has been your average backup point guard throughout his career. Without his Finals performance, he never would have received such a deal. One also has to wonder who was behind the deal. Who is calling the shots right now? Is it GM David Kahn, or coach Adelman, or  player personnel director R.J. Adelman?
It is interesting that the Mavs were so willing to let Barea go in free agency, considering they are the model franchise for statistical player evaluations. So perhaps their numbers on Barea were not good enough to warrant giving him a deal (the Mavericks reportedly did offer Barea a 1 yr/$8 million contract) as they wanted to keep their salary open for next summer. Dallas also had bigger fish to fry with handling the rest of their team as they focused on retaining center Tyson Chandler and were looking at other players on the free agent market. Did Mav's owner Mark Cuban know something about Barea that no one else around the league knew about and decided to let Barea walk? Did Cuban just come to the realization that Barea played way over his head in Finals and his future play was not going to warrant the money he was demanding, so he gave him two option: take a one-year deal or walkout the door? Or did he really want to resign him to a long-term deal, but couldn't because he wanted to keep the team's cap number down in the future?
Barea gives the Wolves a player who knows what it take to win at a high level and another player who can handle the ball. Adelman recently has criticized the lack of ball handlers on roster, so the front office did addressed that issue. Whether the two point guard system will be effective remains to be seen.