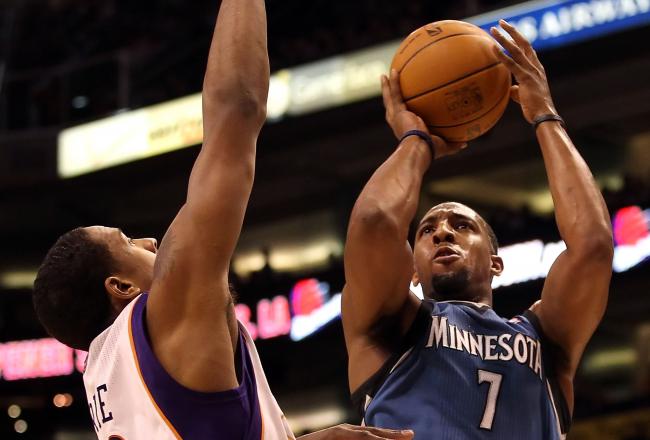 When drafted, Derrick Williams was billed as an efficient scorer, who rarely took bad shots and finished with power at the rim.
Since Kevin Love went down with injury the door has never been more wide open then it is now for Williams. However, nine games into this season and much of last season Williams has done very little in the way of showing that he can survive as a regular NBA starting forward. Lately Williams has looked confused and disinterested on both ends of the floor while shooting poorly — from both outside and at the rim, regularly getting his shot blocked by bigger forwards and centers inside. For being taken at the number two overall pick in the 2011 draft, Williams sure doesn't look like much of a prize.
The biggest problem with Williams is that he can't shoot the ball efficiently enough to be relevant right now. Lately he has been in the mode of taking more shot than actual points scored — doing  his best Michael Beasley impersonation. He has had four instances so far this season where he has finished a game with more field goal attempts than points, including a dreadful 0-10 performance in Chicago a few weeks ago. He is shooting just 37.8% in the restricted area (at the rim) this season and 34% away from the rim (three-feet and beyond) right now. Even more depressing is the fact that he shooting just 36.4% (12-33) on lay-ups and dunks, the kinds of shots one shouldn't miss. It is a small sample-size yes, and his finishing ability has to go up as he shot 63.2% at the rim and 64.9% on lay-ups and dunks last season.
It is his outside shooting that is really troubling and may never get much better than it is right now.
He shot just 27.2% from three-feet and out last season, ranking dead last in the NBA among shooters with at least 300 shot attempts from that area of the court.
Take a look at where Williams ranks since entering the league last season. He is right up down there with the likes of Tyreke Evans, John Wall, Corey Brewer. These are players who are notoriously known for their broken J. Even Ricky Rubio, who by no means is known as a good shooter has better shooting numbers than Williams in every situation, except for at the rim, where Rubio was one the worst in the league last year.
With Kevin Love's return looming, it is hard to argue in favor of Derrick Williams seeing extended minutes when Love comes back. The question now become can Williams, at just 21 years old, improve to be anything of significant value in the league?
So I took a look back at a pair of "tweeners" who just like Derrick Williams were taken in the top-5 the past few drafts. The two that stuck out the most were Marvin Williams (No. 2 in 2005) and Jeff Green (No. 5 in 2007).
Comparing Green and Williams' first 75 games stats to those of Derrick Williams' first 75 games (his NBA career). The numbers are pretty similar, especially the shooting marks.
Now Marvin Williams and Jeff Green did get better after their first 75 games in the league, but now with both players at age 26 their career arc has plateaued. Marvin Williams and Jeff Green have improved their career shooting percentages of 38.4% and 35.7% respectively on shots from outside the restricted area, and much like Derrick Williams struggled in their first 75 games from outside the restricted area, each shooting about 33%. Note though that Williams' 26.6% career mark is still almost 6.5% worse than the two others and those two were not exactly lighting up either.
Based on Derrick Williams' first 75 games, the probability that he turns into a star anytime soon is decreasing rapidly or already gone. His ceiling is about where Marvin Williams and Jeff Green are at right now — a borderline NBA starter. These are guys can all be classified under one group: those who never reached the potential and superstar label that came with their draft position.
Take a look at the pre-draft profiles for each of these players. Sort of fun to look at in hindsight.
So is it really worth it for the Wolves to stubbornly continue to invest minutes into the next Marvin Williams or Jeff Green, while at the same time the team is vying to make the playoffs for the first time since 2003-04.
It was rumored that the Wolves were fielding trade offers for Williams from teams this past summer. Kahn admittedly missed on Jonny Flynn and Wes Johnson, and wisely cut his losses. With the current direction the team is headed, Derrick Williams may be left out in the cold, soon joining that list.
It may be the case that David Kahn already has some of those teams who called last summer on speed dial, ready to call them back.